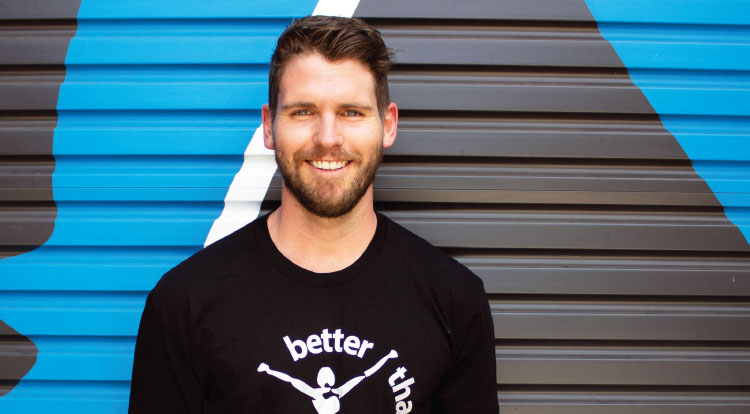 Fitness and health have been a huge part of my life since I was a youngster and I owe that to my parents who gave me opportunities to fulfil childhood sporting dreams.
I started playing out playing football, swimming, tennis and surf lifesaving but a choice was to be made as to which sport I wanted to seriously pursue (swimming was the winner). Why? I am a Pieces and us fish love water.
Whilst swimming I began gym training and it was here where I fell in love with building my strength and challenging myself in workouts.
Over the past several years whilst working at various schools and sites for children and adults with a vast range of disabilities I always still have had a love for fitness, which has now taken me down the road of CrossFit.
I have always loved helping people, and seeing others reach their health and fitness goals.

QUALIFICATIONS
Cert III & IV in Fitness
Working towards being a Level 1 Cross Fit Coach

TRAINING STYLE & FAVOURITE EXERCISE
I love Conditioning workouts that you have to chip away at and make take longer than 20 Minutes. I am slowly learning and increasing my knowledge of barbell weight lifting.

FITNESS PHILOSOPHY
When you lay your head on your pillow each night, ask yourself : did I give the day 100% of my energy and effort.
Recharge
Repeat

INSPIRATION
Anyone I can help to achieve their fitness and health goals give me inspiration but if I had to choose 3-4 people they would be:
Michael Phelps (Swimming)
Zane Holmes (Surf Lifesaving)
Rich Froning, Matt Fraser (CrossFit)

FAVOURITE FOOD
You can't go wrong with a Burger but of course all in moderation 😉

MY MANTRA/FAV QUOTE
"Don't turn your back on fear"

AWARDS/COMPETITION/EVENT PARTICIPATION
Participation in a 10 km Open Water swim which doubled as Olympic Trials
Surf Lifesaving Awards
Swimming Australia and SA Awards

2019
Ran first ever half marathon in 1:35.00
Competed in first ever CrossFit competition (Partner Pandemonium) and places 3rd in Scaled Men