Welcome to Better Than Ever.
We strongly believe that everybody deserves to be Better Than Ever!
We help people change their lives through our Personalised Health, Training and Nutrition Programs.
As one of Adelaide's premier Personal Training studio's, we are dedicated to tailoring a program to suit your individual needs and we create an environment that motivates you to be the best version of yourself. To Look Good. Feel Great!
We Inspire. We Empower. We Lead.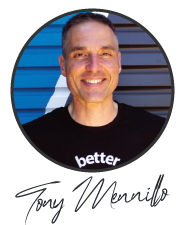 Contact Us
Are you ready to start your Better Than Ever journey?